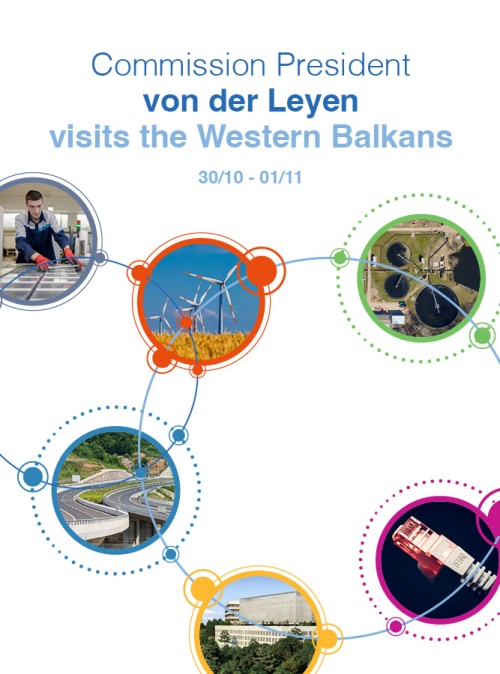 European Commission's President spells-out new Growth Plan during visit to the Western Balkans
06-11-2023
Ursula von der Leyen visited North Macedonia, Kosovo, Montenegro, Serbia, and Bosnia and Herzegovina between 30 October and 1 November to present a four-pillar Plan to step up the socio-economic convergence of the region with the EU. European Commission's President, Ursula von der Leyen, presented the new Growth Plan for the Western Balkans during a trip to the region between 30 October and 1 November 2023. She reiterated the EU's commitment to having all six Western Balkan partners as part of the European Union, and praised the efforts already made to achieve that.
Investments made under the Economic and Investment Plan over the past year were highlighted, along with the progress made to tackle the energy crisis resulting from Russia's war of aggression against Ukraine. In North Macedonia, the Oslomej and Bitola Solar Power Plants, as well as the Bogdanci Wind Park, were highlighted as important investments in renewable energy. President von der Leyen also flagged the Kostolac Wind Farm in Serbia and the regional Trans-Balkan Electricity Corridor as key examples of investments in energy security. Transport investments to improve connectivity in the region such as Railway Corridor X, Road Corridor Vc and the Montenegro-Serbia Rail Interconnection were also highlighted.

Looking forward to the new Growth Plan, which offers advantages of EU membership ahead of accession to the European Union, the four pillars were outlined:
Firstly, the EU will enhance economic integration with the EU's single market. The European Commission has identified seven initial priority areas for integration, which the EU could offer to the Western Balkans in crucial sectors of the economy.
Secondly, the Western Balkan economies complete the creation of the Common Regional Market, which could increase the GDP of the region by 10%.
In return for market access, Western Balkans must pick up on the pace of reforms – the third pillar – to have a level playing field.
And finally, the last pillar, increased financial assistance to support the reforms through a Reform and Growth Facility for the Western Balkans. A new instrument worth EUR 6 billion in grants and loans, with payments conditioned on the Western Balkans' partners fulfilling fundamental reforms, and socio-economic reforms.
Ursula von der Leyen: "This Growth Plan is supposed to boost your economy. Most importantly, it will create good jobs. And it will support you on your accession path to the European Union. I believe this is the right offer at the right time. The Plan has the potential to double your economy within a decade. And it will play an important role in your path to the European Union."

President von der Leyen's statements
North Macedonia - 30 Oct
https://ec.europa.eu/commission/presscorner/detail/en/statement_23_5441
Kosovo - 30 Oct
https://ec.europa.eu/commission/presscorner/detail/en/statement_23_5448
Montenegro - 31 Oct
https://ec.europa.eu/commission/presscorner/detail/en/statement_23_5462
Serbia – 31 Oct
https://ec.europa.eu/commission/presscorner/detail/en/statement_23_5463
BiH – 1 Nov
https://ec.europa.eu/commission/presscorner/detail/en/statement_23_5481