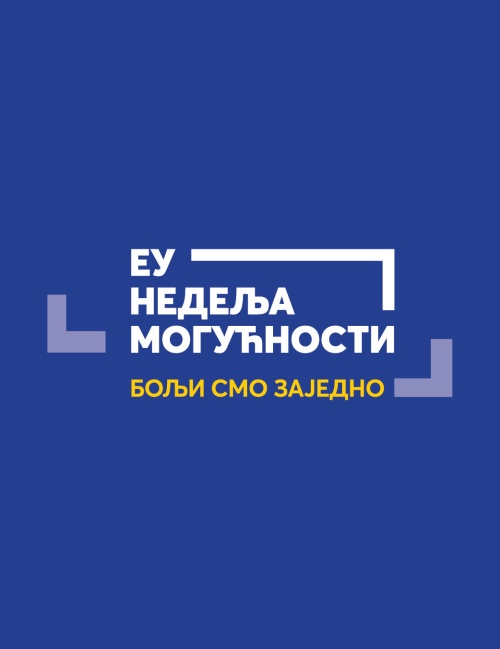 EU funding opportunities for private sector in Serbia
More than 1,800 participants attended the first EU Opportunity Week in Serbia, from 21 to 26 June 2023. It was the first time all EU programmes and funds open to Serbians were gathered in one place to share application procedures and opportunities. A further 3,500 participants followed online and interacted with programme representatives in the dedicated online space.
The event, jointly organised by the Delegation of the European Union and the Government of the Republic of Serbia, encompassed 120 information sessions and panels over five days and in three cities: Belgrade, Niš, and Novi Sad. It covered the full range of EU support in the economy and business, education, youth and sports, culture, media and civil society, local development, and green transition, as well as agriculture.
In a video message delivered at the event's opening, the EU Commissioner for Neighbourhood and Enlargement, Olivér Várhelyi highlighted the significant assistance provided by the EU to Serbia, including through the Economic and Investment Plan for the Western Balkans. Mobilising up to €30 billion investments, as a combination of grants, preferential loans and guarantees, this substantial package supports investments in sustainable transport, clean energy, environment and climate, digital future, human capital and the private sector.
Indeed, during the first day of the EU Opportunity Week, a special panel was dedicated to presenting opportunities for micro, small and medium-sized companies (MSMEs) under the Western Balkans Investment Framework (WBIF). Roberto Estellés Colom, Team Leader for WBIF Private Sector Development and EFSD+ Guarantees in the European Commission, presented the WBIF investment priorities and existing instruments, focusing particularly on investing in the competitiveness of the private sector. He reiterated the commitment of the EU to support the green transition, sustainable agriculture, digital transition and innovation, trade and value chains, financial inclusion, and financial diversification in the region. These efforts aim to foster a favourable business environment, increase the availability and affordability of financing and promote the economic growth in the region. He highlighted the pivotal role that the Western Balkans Guarantee Facility (EFSD+ guarantee) will play in reducing financing costs for both public and private investments while minimising risk for investors.
The Serbian Minister of European Integration, Tanja Miščević, and EU Ambassador to Serbia Emanuele Giaufretsigned an agreement at the event on new donations through the Instrument for Pre-Accession Assistance (IPA III) amounting to €200 million, of which €162 million in EU grants. The majority of the EU-provided funds will be directed towards the environmental sector, with over €72 million allocated for enhancing infrastructure, bolstering institutional capacity in environmental protection, and effectively managing and mitigating climate change in line with Green Agenda.
Emanuele Giaufret, EU Ambassador to Serbia: "Our mission, my mission, is to make Serbia an even bigger part of the EU economy and society as it progresses on its path of integration. This means access for Serbian companies to the largest single market in the world, with over 500 million consumers. This means the free movement of people, goods and capital and access to all the opportunities that Europe offers. From state-of-the-art research and development in IT and biotechnology, world-leading students and experts in various fields to some of the best agricultural products in Europe, Serbia has a lot to offer to the EU."
Tanja Miščević, Minister of European Integration in Serbia: "The package of funds that we have signed now amounts to almost EUR 200 million – EUR 162 million are EU grants, and additional co-financing from Serbia, which is necessary in order to prove the seriousness of this process with our contribution. The largest part will be focused on the Green Agenda. For example, thanks to the wastewater treatment plant, everyone in the Zlatibor and Moravica District, where about 100,000 people live, will be connected to the sewerage network. We are talking about concrete benefits for individuals, for all of us, especially in local areas."
Roberto Estellés Colom, Team Leader WBIF, European Commission, DG for Neighbourhood and Enlargement Negotiations: "The EU remains committed to supporting socio-economic development in the Western Balkans and in doing so, supporting the competitiveness of the private sector plays a key role. Through a combination of grants, advisory services, loans and guarantees, the Western Balkans Investment Framework (WBIF) endeavours are geared towards fostering a favourable business environment, enhancing the availability and affordability of financing, and facilitating the growth of MSMEs in key areas such as green and digital transition, sustainable agriculture, innovation, trade, value chain integration, and financial inclusion for those furthest away from the labour market. "

More information: EU Opportunity Week website https://eumogucnosti.rs/?lang=en
More on WBIF Private sector here