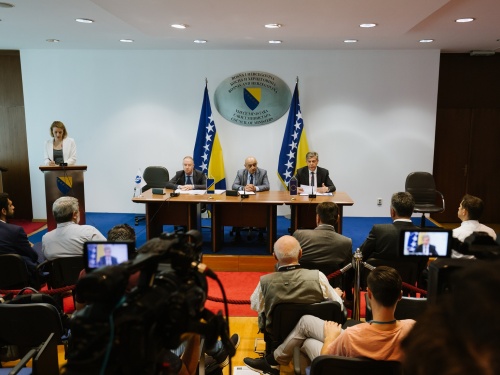 €15 Million Connectivity Agenda Grant Agreement Signed for Johovac - Rudanka Motorway Section in Bosnia and Herzegovina
01-08-2019
A €15 million EU grant agreement for Bosnia and Herzegovina under the 2017 Connectivity Agenda investment package was signed today by representatives of the European Union, Bosnia and Herzegovina, and the European Bank for Reconstruction and Development (EBRD).
The EU grant complements an up to €70 million loan from the EBRD and supports the construction of a 6.1 km motorway section and two interchanges between Johovac and Rudanka on Corridor Vc in Bosnia and Herzegovina. The new developments lie on the Mediterranean Corridor, which links the Iberian Peninsula with the Hungarian – Ukrainian border. Its extension into the Western Balkans, mostly associated with what is regionally known as Corridor Vc, connects Central Europe, specifically Hungary and eastern Croatia, to Bosnia and Herzegovina and the Adriatic Sea.
The project is now at the construction stage and, once completed, will ensure a direct connection to Bana Luka – Doboj motorway and to the existing M17 main road in Bosnia and Herzegovina. It complements three other motorway sections which are to be built by the Public Company Republika Srpska Motorways along the Mediterranean Corridor in Bosnia and Herzegovina, as follows:
Odžak to Podnovlje, 22.3 km;
Podnovlje to Johovac, 13.7 km;
Rudanka to Karuše (Doboj bypass), 7.2 km.
Ambassador Lars-Gunnar Wigemark, Head of the EU Delegation and EU Special Representative in Bosnia and Herzegovina, Ms Vjekoslav Bevanda, Minister of Finance and Treasury of Bosnia and Herzegovina, as well as Mr Ian Brown, Head of EBRD Office in Bosnia and Herzegovina, attended the event as well as the subsequent press briefing.
More details on the event may be found here and here. Additional information on the project as well as on the WBIF operations in Bosnia and Herzegovina can be found in the project summary and on our website.
Photo credits © Delegation of the European Union to Bosnia and Herzegovina & European Union Special Representative in Bosnia and Herzegovina.